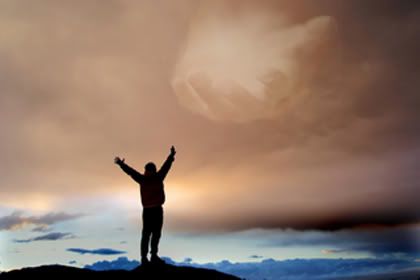 Job 5:9 (New International Version)
 9 He performs wonders that cannot be fathomed, 
       miracles that cannot be counted.
Following the theme from Sunday's lesson at church I wanted to continue my thought of God's awesome power.  I am guilty of forgetting the miracle's that God has bestowed on my family and I.  I am guilty of not being thankful for all of the blessings that God has laid at my feet.  I get wrapped up in my "problems" and my selfishness that I tend to not look at the miracles and blessings as faithfully as I should.  I am challenged to look and stand in AWE of him and his wonders that HE delivers to me.  For just a moment I will stop and feel God in my life.  Right now I can hear the thunder and the rain approaching this little spot in God's universe.  We looked at that Sunday.  Pastor Brent showed us a demonstration on just how small we are.  We are a pinpoint in God's universe - yet He hears every thought, every prayer, every cry to Him.  He flows through our bodies wanting desperately to be proclaimed to all of His people. He wants us to stand in AWE of His wonders and praise Him.  I don't know about you but it has been a long time since I have done that.
I pray that each of you will take a moment and look at His wonders and praise Him.
Love;
Amy Q